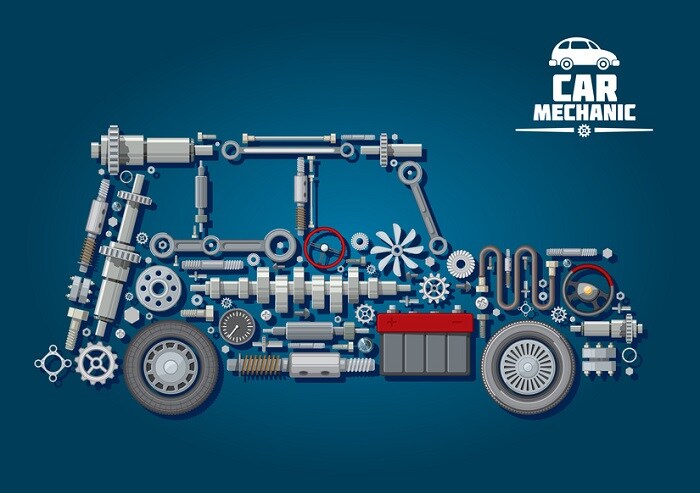 At Ourisman Chrysler Dodge Jeep® RAM of Bowie, we're proud to offer our customers some of the most reliable and rugged vehicles on the market. However, no matter how durable our new Jeep cars may be, you'll probably still have to replace an auto part or two over the course of its lifespan. Thankfully, the highly trained automotive technicians at our Chrysler dealership are here to help with almost any repair or routine maintenance request.
Basic Car Parts Overview
From loose belts to cracked windshields, the staff at our Jeep service center has seen it all. Even the toughest Jeep parts will slowly wear down over the years. That's because these automotive parts are asked to withstand incredibly tough conditions, including constant movement, harsh weather, and intense levels of friction. When a part stops working properly, it can diminish your vehicle's handling, efficiency, and performance. Because each part serves a vital role in the overall health of your Jeep SUV or Dodge car, it's imperative that you make sure to take care of them. The minute you realize that a part is broken or malfunctioing, contact Ourisman Chrysler Dodge Jeep RAM of Bowie to schedule a service appointment.
Signs that a Car Part Could be Malfunctioning
Sometimes it's easy to determine if a part isn't working properly. For example, blown tires and smoking engines make their presence known right away. Other issues might be more subtle, but our technicians have a few warning signs to watch out for. First of all, make sure to pay attention to any emergency lights or flashing indicators on your dashboard. Many times, your dash will alert you when it's time for an oil change or if your tire pressure is low. Also be on the lookout for sudden changes in the way your Dodge Charger or Jeep Wrangler handles. If the response time of your brakes slows down significantly, or your car begins consuming much more fuel than normal, make an appointment with our service center immediately. These could be signs of something very serious that could make the vehicle less safe to drive.
The next time you hear a strange thudding noise or notice unusual puddles of oil on your garage floor, bring your Jeep vehicle into us right away. We're located at 2406 Crain Highway, and we offer online scheduling for added convenience.
Common parts to replace:
Brake pads
Engine
Belts and hoses
Tires
Oil filter
When it's time to bring it in:
Warning lights on dash
Worn tire tread
Low tire pressure
Reduced traction
Strange noises
Hours
Monday

9:00am-7:00pm

Tuesday

9:00am-7:00pm

Wednesday

9:00am-7:00pm

Thursday

9:00am-7:00pm

Friday

9:00am-7:00pm

Saturday

9:00am-6:00pm

Sunday

12:00pm-5:00pm